New York Session Trend Continuation Day Trade GBP/USD 06/06/2011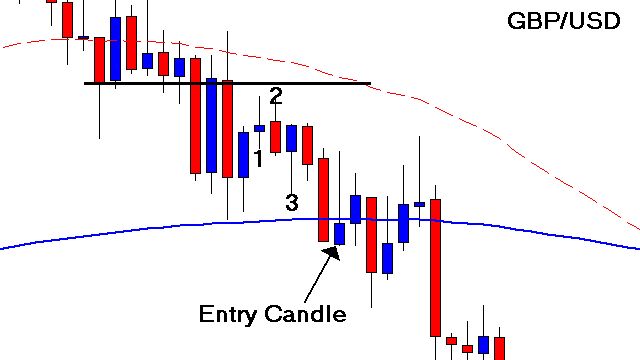 We only took one trade in the forex room this morning, and it was a GBP/USD short. Unfortunately the price sputtered around for to long and we took a break even exit, only to later see it fall. Sometimes that's the way it goes in day trading. Either way lets walk through this forex day trade setup and break down why we got in this position.
The black line in the chart above represents a small intra-day breakout continuation level. As the market was falling from earlier in the London session this level acted as support. The Pound came down to this level, broke through it, and then closed above it…thus showing this level was support. This previous support level was broken to the downside, and then it provided resistance as it very often does in the forex market. This is where the setup began.
Notice how candle #1 comes into that resistance area and then closes below it, thus giving us the reversal candlestick which is the first candle in the confirmation entry forex trading strategy. The second candle of this trading system is what we call the confirmation candle. In a short setup as shown above, the confirmation candle must close below the body of the reversal candle (candle #1), and candle #2 very clearly did that. The first two candlesticks in this trading method are used for confirming the direction of the trade, and the third candlestick is used for triggering the actual entry.
During the third candle you wait for the market to pullback into the body of the reversal candlestick, and take the entry from that point. This setup I explained above occurred 45 minutes before we entered the forex trading room. That being said this was still the entry used. The candle with the arrow pointing to it is the 8:00AM EST candlestick, and this is when we start the trading room.
I noticed the setup that had occurred 45 minutes earlier and mentioned that if we get a pullback anywhere near the body of that reversal candle (candle #1) I would still take the entry. Normally I simply look for another setup if I miss an entry, or if it takes more than 4 candles to come together. There are two reasons why I varied from those standard rules.
1.) The trend was clearly biased towards USD strength in all three pairs (GBP/USD, EUR/USD, and the USD/CHF)
2.) The candle just prior to our "entry candle" just set a new low which signified to me another continuation down of the already established trend.
We've had a pretty good start to the month so far, with +90 pips in the first 4 trading days. Hopefully we will continue to see some decent price action during the NY session, instead of the choppy back and forth we have been getting for the last month.