October 15th 2013 Analysis of EUR/USD and GBP/USD
The EUR/USD can be looked at two different ways today. The first is the first push up still and the second yesterday starting from the lows during New York on Friday. However there are also three intraday pushes over three days which are much more symmetrical even though they are short. They fit the criteria of pushes as per a plan considering the Average Daily Range is still tightening up and at 73 pips right now. Considering all this along with the failed attempt at 1.3600 the higher probability is for the short and reversal back into this lower end of the range.
I know it  seems funny that the USD would strengthen when the US is only two days from possible default and looks more and more like they will actually do it. Having said that as Marc Faber notes there really is nothing safe anymore. On top of that Europe and the rest of the world found out the hard way in 2008 that they cant and wont decouple from the US economy. If the US goes down in flames they are likely to go down even harder. This is why we are not likely to see any break out in either direction on the Euro any time soon. Faber also mentioned something that is highly likely if the US does default in that the Treasury will get funded by the Fed anyway and at least be able to make interest payments to avoid a technical default when in reality they have actually been in default since they started using funny accounting to shuffle money around to make payments for more than a month now. Saying things are about to get interesting is surely an understatement.
As mentioned above I see the best opportunity being a short today with all things considered. Although I will be keeping an open mind. The best level I see for the short is 1.3577 where some stops will be. Since they have already gotten any above Fridays highs and had no conviction to push above 1.3600. They may push into the resistance at 1.3585 to induce some longs also so I will be cautious. If they really need some stops they will go through yesterdays highs but I have my doubts about that. If we get a further run up during Asia this morning I will consider a long from yesterdays lows where the hourly 200 sits just above but seeing them play the breakout traders to the Asian highs would be preferable first.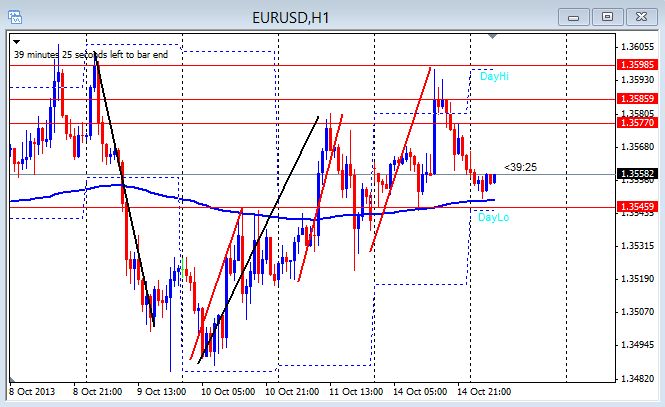 The GBP/USD is in a different position with two clear pushes to the upside now. What I don't like is that there has been the trending accumulation phases done during the NY/London overlap on Friday and NY alone yesterday. This seems very odd. As you can see on the chart I have just copied the line from the second push and if it runs the same today I will miss the potential long and wait for the short after the third push to around 1.6040 level. We may get the long entry around the middle of the Asian range during London but I will need to see the breakout traders get played well and a nice trap around 1.5976. If it makes lower closes than that and I am long I will close as the potential for running to yesterdays lows is probable at that point.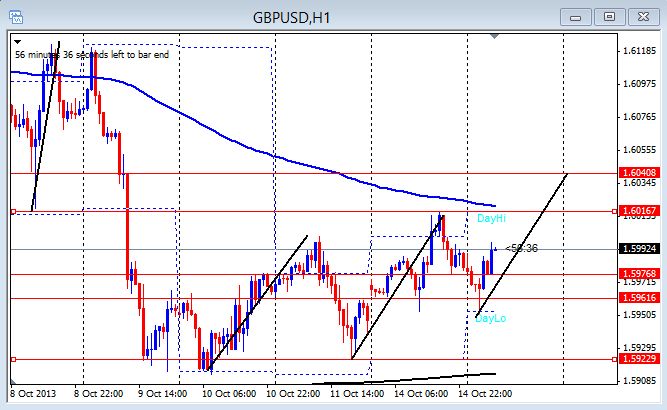 To Learn More About The Secrets of The Mega Banks Check out What is Included in Our Lifetime Membership Here
Forex News Today
The calendar looks pretty busy today but only a few of them are worth noting. Along with that the focus will mostly be on the US coming default so without large misses we probably wont see much.
They start off with CPI figures from the UK which will need to miss to the downside substantially in order to create thoughts the UK will do more printing.
Just as the live London training room closes we get German ZEW Economic Sentiment figures. Expectations are for it to remain steady so the same will be the case there. At the same time the Euro Zone ZEW figures are expected to improve ad we may get a Euro bounce from that but will most likely be used as manipulation.
The US has a couple Fed members speaking but all the important news is being postponed due to the shut down so keep in mind if they actually get a deal done and they go back to work we could be flooded with news for a few days. Having said that its not looking like that will be soon.
Fraud All Over
Enjoy this Max Keiser episode on just how the big businesses have been cooking books for years. Not really surprising but entertaining.
Happy Trading
Chad
If you have questions about joining Day Trading Forex Live and becoming an active member please feel free to contact Robin Haywood. He is a current member and has volunteered to answer any questions to give you an idea of what the service involves and support we provide.
You can email him at robindtfl@gmail.com to set up a time for a conversation over the phone if you like or call his US phone line at 702-560-8552 or Skype at RobinHaywood
If you have any questions regarding the Binary Options education done by long time member Allen Henn you can email him at allenhenn.info@gmail.com or contact him on Skype at Allen.Henn
Do You Enjoy The Daily Forex Commentary? Please Click The Like Buttons, Tweet It, and Google + It Below !!