S&P 500 Approaching August Lows – FX Market Analysis 1/20/16
EUR/USD Fights Further USD Strength
With the S&P 500 approaching the August lows from 2015 I would have expected a bit more US Dollar strength to show in the EUR/USD. Additionally the multiple exhaustion reversal moves we have seen over the last few days have supported further downside in the Euro but the bottom line is the price action has disagreed as the Euro rallied for the majority of yesterday and it doing so again during the early stages of Asia. One thing that is extremely interesting in regards to the US Dollar is the current chart pattern we are seeing. As you can see in the chart below the price has continued to compress which is often an indication of an aggressive move to come. Will it come down and create a stop run of the previous lows before continuing up or break lower and never look back? We will have to wait for the answer to that question if/when we test that level.
Want to learn the bank trading strategy, join our live training room, access live member chat, as well as lifetime support? Join Us Here
In regards to the price action on the EUR/USD for today, I will trade with an open directional bias again. At this point we essentially have a wide range carved out and any previous attempt at starting a short term market cycle has failed. Therefore I will be open to any stop run from our pre-selected manipulation points.
Pound Remains Weak
The Pound continues to remain weak. We have not seen much USD Dollar strength to speak of over the last week of trading and still the GBP/USD continues to get decimated. This continued today on the back of further bearish news from Carney signaling no rate hike anywhere in sight. Remember his previous comments about 6 months ago pointed to the BOE looking to go into a tightening cycle. While that statement was laughable and no one believed him at the time the market still reacted heavily to him actually saying it today. You have to be careful chasing the Pound short today as this is the perfect trap for those who become too heavily biased down. Many times when the market is extended (down in this case) and then you have news to compound the move, the market will actually do the opposite and do so quite aggressively. At this point there is no sign up that. Because of that possibility I will continue to keep an open directional bias and trade a stop run from any of the pre-selected manipulation points.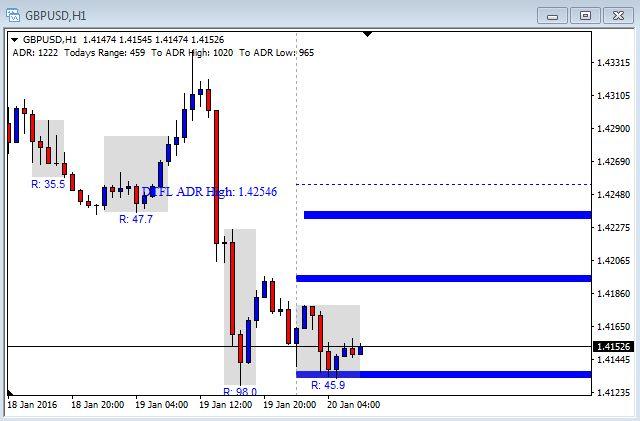 Forex News For January 20th 2016
UK Average Earnings Index Incl/Bonus 4:30 AM Eastern: This news comes out with Claimant Count Change which use to be the much more important piece of data. Currently the market is reacting to Average Earnings much more aggressively and with a sizeable deviation it will lead direction. If there is a conflict and one is not clearly the larger deviation then you can expect a whipsaw in the price action. For this month Average Earnings is expected at 2.1%
US CPI Core 8:30 AM Eastern: The Core number seems to be getting the attention as of late. Even a .1 deviation from the expected number is enough to create a sizeable spike. The follow through after the news has been very hit and miss. If you do trade back through pre-release then the likelihood of a move the other direction is quite high historically. This month Core CPI m/m is expected at .2
-Sterling