Stop Run Reversal On The USD/CHF 3/29/2012
I hope everyone had a great weekend! I wanted to get this trade posted because I think its a great example of how to use the stop run. If you really boil things down to the very basics you will be left with the stop run reversal. Ok, so that was a bit of an over simplification but the point is the manipulation is one of the strongest indications of what position smart money is accumulating.
I'm going to get around to making a new video on the stop run, but here is a training video I did on the stop run reversal 2 years ago if your unfamiliar with the basic concept.
Stop Run Reversal Setup Training Video
Anyway, back to the USD/CHF and the trade we took Thursday in the live training room. While trades are not what the room is about, when a pair is setting up were happy to take them. This was the case in regards to the USD/CHF.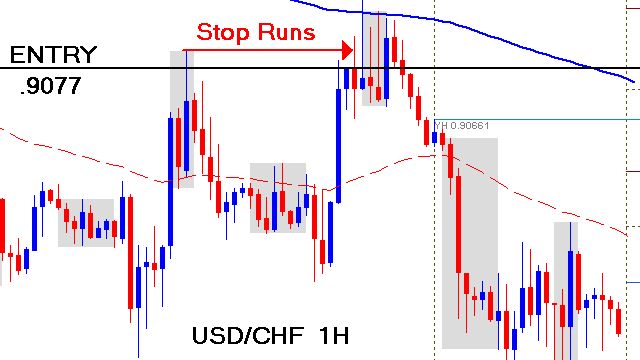 A few days earlier we had broken out of an accumulating range bound market. Given this fact the probability lies we will have further downside in the forum of at least 2 more cycles depending on how things stack up. With out bias being to the downside we were only looking for stop runs on previous highs. Notice how the 1H chart shows multiple clear pushes through the previous days high….with all of them getting rejected back to the downside.
I took the entry in the room on the USD/CHF short from .9077 and as I mentioned in the members daily market review I have closed half for +50 pips before the Friday close. We have now gaped down a few pips and it is possible we will see the market fill the gap. My current stop is .9037 which should give it enough room to move while still protecting profits of at least +40 on the last half. Currently there is an open take profit until the next wave down. Given the fact that the USD/CHF, EUR/USD, and GBP/USD accumulated for so long we could be in for a larger overall move.
Happy Trading!
-Sterling
—————————————————————————————————-
Forex Course & Lifetime Forum Access – Lifetime Membership to the Forex Bank Trading Course, Forex Forum, Nightly Video Training, Live Weekly Training session, and Lifetime Member Support at a special March Discount – Click Here For More Information
—————————————————————————————————-