Tight Range As Inverse Trend Channel Forms – FX Analysis 3/22/16
Inverse Trend Channel Forming On EUR/USD
The landscape has shifted a bit with the EUR/USD. When it comes to becoming a profitable forex trader you have to be willing to adapt to new market conditions. Based on the criteria we look for, further downside was the higher probability yesterday. Today we did see downside in the EUR/USD but that short bias was for the following day and not the remainder of the week. After today we are forming what I term as an inverse trend channel. If you notice this type of move is creating lower lows and lower highs. What is the classic definition of a down trend you hear repeated more than anything else? Without a doubt lower lows and lower highs is looked at as a reason to be biased short but they fail to look 'behind the curtain'. When you look at the chart formation or chart patterns and you think your gaining information from that…your in exactly the right position to be taken advantage of by smart money. Why?
This type of movement down induces selling pressure as it is the classic definition of a down trend. If you were smart money and wanted to accumulate a long position what do you need…you need sellers. By creating/allowing this type of gentle downward slide there is seller pressure created which is a perfect opportunity to buy into the selling pressure without spiking the price. I'm not saying the market is guaranteed to move up. What I'm saying is you need to stop looking at the chart and assuming that the market moving a certain direction and making a certain pattern means something. If your not looking at it from the perspective of those that actually control this market then you will be their victim like 98% of all other retail forex traders.
As I have already alluded to I do favor further upside tomorrow but we do not have an official cycle and therefore we have to keep directional bias open for the time being. What I'm about to say is critical and any reader of the DTFL forex blog has heard me say it 1000 times, bias is NOT a reason to enter the market. We still need to see a valid stop run of a pre-selected manipulation point before a trade can be taken. If this is not seen then we simply sit and wait. At this time I have only one lower level from which I would take the long setup if a valid stop run were to occur. This lower point could also be used as a backside short if the market fails to push up and rather, starts to break to the downside. A very aggressive type of stop run that I rarely talk about is the stop run of a trend line. The upper trend line on the 15M chart could provide a backside long if we were to simply start breaking higher without first testing the lower manipulation point. That is not a valid setup as per the rules of our online forex trading course, but it is essentially the same principal behind a standard stop run but from a weaker level. To the upside I have two levels from which I would take any stop run short that occurs.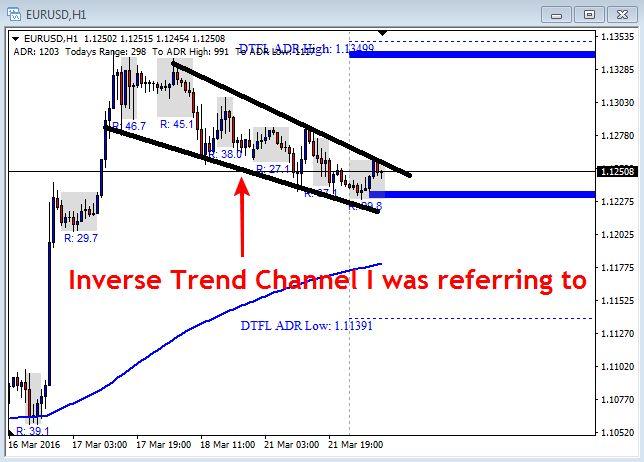 Extremely Tight Range For Pound
Although we do have buying pressure that was shown in the COT data as I mentioned in yesterday's daily forex commentary, I have a much more neutral bias for the Pound today. That is fitting given the lack of a valid market cycle. At this point we do not have a valid lower level. For those of you who are members I would be sure to watch tonight's daily market preview for further detail on lower levels for the GBP/USD. We have a bit of a unique situation which I went through in further detail in tonight's video. At this point the current lower level would need to push up to around the NY session highs before it would become a valid lower level from which a long could be taken. To the upside we only have one upper level I trust today. Should that point we broken, anyone who was short over the last 2.5 days would officially be in the red which means we have a sizable decision point. In trading, decisions equal liquidity. Where the most decisions have to be made the most liquidity will be located.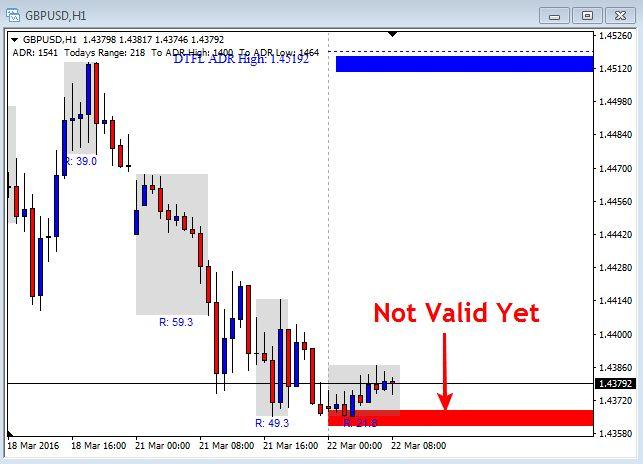 Forex Market News For March 22nd 2016
German IFO Business Climate 5:00 AM Eastern: This is a release I would hold into if I was +10 or better. If your below that point I would be clearing out ahead of the news on any Euro position. 95% of news events are clear cut in regards to whether or not we will hold a trade into the release. The last spike over 15+ pips was back in July of 2015. I look at a 6-9 month window. If we had that spike and then never had a deviation from the expected number then I would recommend not holding into the release. In this case we have had 3-4 other times where as big of a deviation was hit as compared to July 2015 and still no spike over 8-10 pips. Therefore this is one that I would be a bit more lenient with rather than just simply saying I would not hold into the release. This month 106.1 is the expected number.
UK CPI y/y 5:30 AM Eastern: UK CPI is a news event that has always been in the category of releases I would not carry a Pound trade into. The follow through after the news is a completely different story. For a period of a few months you might have beautiful follow through in the direction of the spike but then the follow 3 might be the opposite. One key here has always been the current directional bias at the time of the release. More often than not a .1 deviation from the expected number will not change it. A .2 of larger deviation from the expected number has a much better chance of holding. For this month the expected number is .4
-Sterling
Want to learn the bank trading strategy, join our live training room, access live member chat, as well as lifetime support? Join Us Here