Tips For Day Trading New York Reversals – Live Forex Trades
This fx training video really illustrates a lot of good points we should be looking for when day trading New York reversals. While there is never an "XYZ" way of trading any market, there are high probability points that smart money will reverse the price from frequently.
Whether we are trading the overall smart money cycle or a reversal trade setup as in this case, we must keep in mind how smart money tends to move the price which gives us our edge.
Live Room Trade Setup
Today we had another New York reversal trade setup during the forex training room session.  As with the trade setup in the training video above we had a market that first and foremost had moved at least 90 pips. This gives us the indication that smart money will be ending that daily push. Additionally, the price had hit the ADR.
Next, we were in the typical smart money reversal time for the NY trading session. To summarize those first two points, we had an extended market at the end of the typical NY reversal time. This gave us a high probability of a price reversal soon to come. If we expect the reversal the next logical question is, where should we expect the reversal from?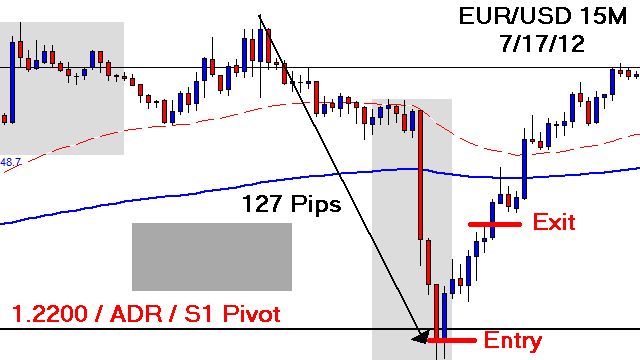 Once the criteria above was set, I very simply looked for the price level with the most confluence which was 1.2200. This level was a psychological barrier first and foremost. Round numbers are universally used in every market which makes them a great point for Smart Money to manipulate. Additionally, this point was right around the ADR and S1 Pivot which gave further indication of retail orders being stacked below 1.2200.
When we saw the price break below 1.2200, I expected this to be the stop run reversal point, and thus I took a long trade setup in our live trading room today from 1.2197 with -20 pip stop loss and a +40 pip take profit. Given the overall market cycle, I was only looking for 2/1 risk/reward on this position which it gave up rather quickly. I hope these pointers can help in your trading!
-Sterling
If you would like more information on how the banks manipulate the forex market you can check out our Forex Bank Course Here.
Did You Enjoy This Forex Training Video? If So Please Click The Like Buttons Below or Tweet It !!