Trend Line Test – Continuation Day Trade EUR/USD 18/08/2011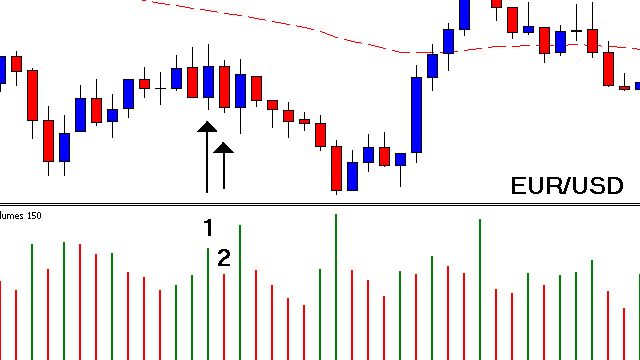 Sorry I didn't get a chance to update the recent trades a little sooner. This week was a bit rough for us in the room. It was our first negative week in the day trading room in quite a while. That's all part of trading and how you recover is what determines who will be successful in the forex market. That being said lets get into this day trade from Thursday.
Thursday the EUR/USD and the GBP/USD has been trending down throughout most of the London session and into the start of the NY session. At the point of candle stick number one the market had retraced into trend line resistance. At a resistance level we look for an above average volume candle. This signals to us a possible change of direction coming up. Candle number 1 gave us that higher than average volume candle. Once that candle closed we needed the next candle to show us clear decisive selling.
This is done by the second candle moving as far or further than the first candle (from high to low). The measure of high to low of a candle is the spread. Therefore the second candles spread needed to be the same or more than the first. Candle number two moved down, as far as candle number 1, but did so on less volume. Moving as far on less volume showed us clear selling. Forex volume measures ticks in price, therefore when a candle moves as far as the last candle in the opposite direction, but on less volume that is showing a clear reversal.
This one ran about 15 pips in our direction. Unfortunately there was an abrupt shift in direction, and a break of the trend which stopped us out on this trade for -20 pips. Just a few more pips and we would have had half off for +20 pips and then a break even stop on the last half, but that's part of trading. The most important part is to never let a losing day trade effect your next trading decision.
Forex Course & Lifetime Forum Access

 – Lifetime Membership to the Forex Bank Trading Course, Forex Forum, Nightly Video Training, Live Weekly Training session, and Lifetime Member Support at a special March Discount – Click Here For More Information