US Dollar Index Showing Potential USD Strength – October 28th 2015 Forex Commentary
US Dollar Index Weekly Stop Run
A little over a month ago, in the September 24th 2015 FX Commentary I talked about the large stop run on the weekly chart of the US Dollar Index. Last week we had a very strong surge to the upside on the Dollar Index which create a very bullish close to the weekly chart that engulfed the previous 2 months worth of price action. As of right now we are seeing a small retracement but I would expect to see further continuation to the upside this week and therefore I do favor a short on both the EUR/USD and GBP/USD. From time to time I mention things like COT data (Commitment of Traders), risk aversion or appetite, as well as other charts such as today. It is important to note that these outside factors are not why we take a trade and are not a reason to take a trade on their own. They should however, give us added confidence in one direction and keep us conservative in the opposite. 
So how can you take this information and turn it into something that is actually useful? The way that I use a bias like the US Dollar Index, is in my selection of manipulation points. For example, if the stop of the lows holds and the US Index does continue to rise that will add pressure on the EUR/USD and GBP/USD to move down as I already mentioned. Therefore, I will be more aggressive in adding upper manipulation points from which I could take a short setup and conversely be more conservative when selecting lower manipulation points from which I would consider going long.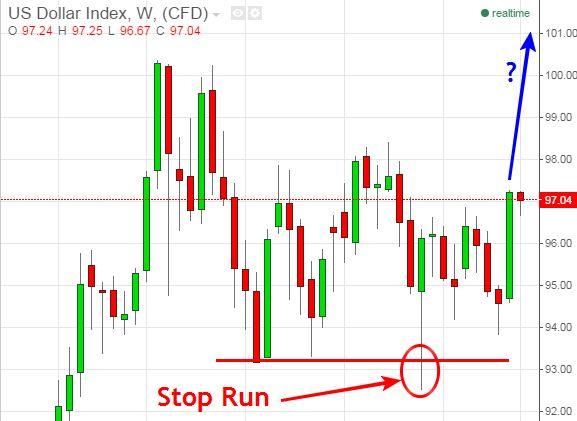 Euro Remains Heavy 
Today the EUR/USD provided a beautiful stop run off of the first upper manipulation point that we had listed yesterday. Unfortunately for me my broker only broke this level by 2.5 pips and therefore I did not have a large enough break to use this as a setup to go short. When I came in our live trading room this morning most everyone had over a 3 pip break. This should have been enough to raise some red flags for me but I didn't go cross checks the highs to see if the others created a 3 pip break. If I had then I probably would have been in the short with everyone else but I was busy getting the trading room started and missed out. If you got the 3 pip or larger break then you had a nice trade….if not then your in my same situation. Overall the exit for this trade should have been ahead of the 10:00 AM Eastern economic data as it was capable of a 15+ pip spike.
As I mentioned at the beginning of today forex market commentary, I do favor the short in both pairs. At this point though, we do not have a current market cycle and therefore I will keep the directional bias open and take any valid stop run setup from the listed manipulation points as per the rules of the trade plan.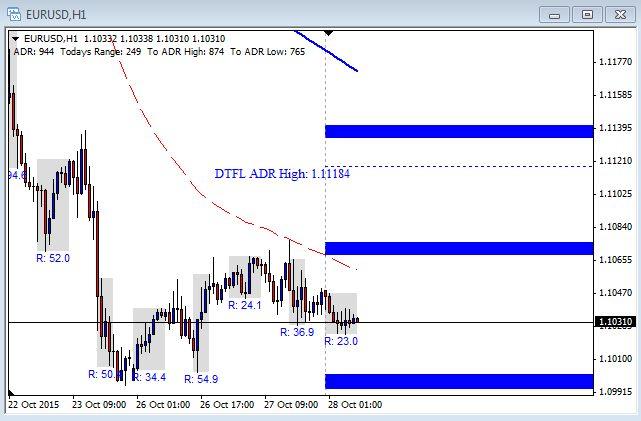 GBP/USD Gives Expected Third Push Down
In yesterday's forex market analysis we were looking for the third push to the downside in the GBP/USD. The Pound did give the third push to the downside that we were looking for but failed to proved a trade setup to allow us to catch the move. Only trades that occur from valid manipulation points satisfy the rules of the trade plan. Any rule that is used to filter out bad trades will also from time to time filter out good trades. The 'Holy Grail' does not exist in trading. As traders we don't look for perfect, rather, we look for high probabilities. 
Given the fact that the GBP/USD has given us the third push to the downside that we were looking for, we will now go back to trading without a directional bias.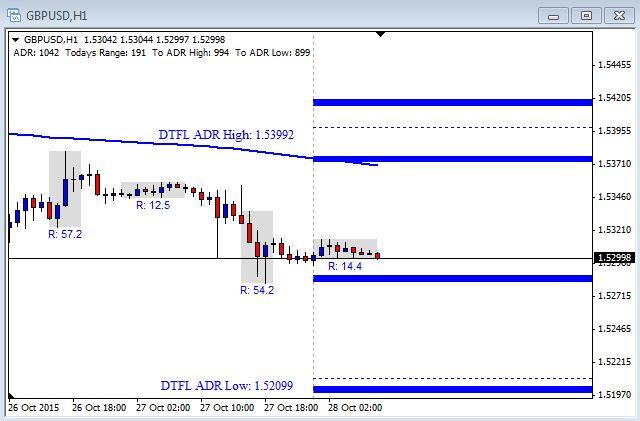 Forex News For October 28th 2015
FOMC Statement & Rate Decision 2:00 PM Eastern: Obviously this is a big market mover given all the talk of US interest rates and what the Fed is going to do. I cannot help but feel that right now is the calm before the storm and who knows what is going to be said ahead of the news. Will they be extremely dovish like the ECB? We will have to wait and see. Either way I will not carry a trade going into this news.
-Sterling
Want to learn the bank trading strategy, join our weekly live training room, talk to members in our forum, and have access to lifetime support? Learn more here