US Equities Close at All Time Highs, USD Strength Holds Nov. 11, 2014
US Stocks More Likely To Keep Pushing Up
Considering the late start I am getting on the commentary today I will have to spare you most of my rant on why the rise in US stocks is likely to continue even if it makes no sense at all. Suffice it to say that they really have no where else to put their money. Bonds dont yield any profit, property is still overvalued and they have bought up all the farmland to protect them self when the correction does happen. However what that means for stocks is there is only one direction, UP. Of course it cant last forever but also means that when the cards to come crashing down its going to be big and fast. It wouldnt surprise me to see 2000 point drops or more in one day on the Dow Jones. Of course with a few halts in trading with the new "safety" measures they have installed if the market crashes 10%.
EUR/USD Cant Make Second Push
The EUR/USD false conviction in higher prices yesterday adds to the probability that the move up was a shake out rather than true conviction. Since the move down was 90+ pips it does qualify as an intraday push but at this point its better to remain open on direction as long as it holds this range. The best level I see for a short is just above the Asian highs at 1.2443 but with the current Asian range being 26 pips its highs/lows are valid levels as well. As long as they continue to hold yesterdays lows there is a decent change we get a set up for the long during the London session today. However if they do show any conviction below 1.2414 then I will be bias for the short and look to take a backside entry there.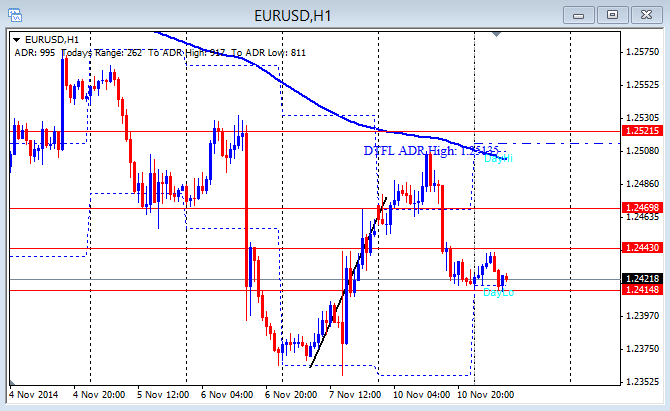 GBP/USD Moves Down on USD Strength
The GBP/USD moved in tandem with the Euro as the USD gained some strength back yesterday. However the push down was lack luster only moving 78 pips leaving doubt on any conviction in the move. As with the EU its best to be open on where they may push today even though its a higher probability they will continue to test the lows. Having said that, the levels aren't really that great either. At 1.5858 there is the Asian highs just below while the 1.5870 has stronger rejection for a short. I will be open for the long at the Asian lows but will be watching any potential conviction below and want a nice set up to take an entry there.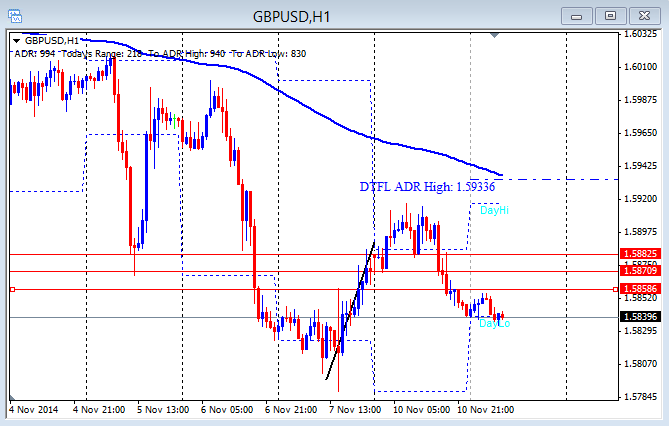 EUR/JPY Shows Conviction Up
After the early rejection at yesterdays highs the EUR/JPY showed conviction upward just a few hours later. Too bad there wasnt an entry at the backside afterward. This pair will most likely run off without me today but with the conviction I will be bias for the continuation and consider a long around 143.04 during the London session today. If it cant pull back that far I will pass on trading this pair.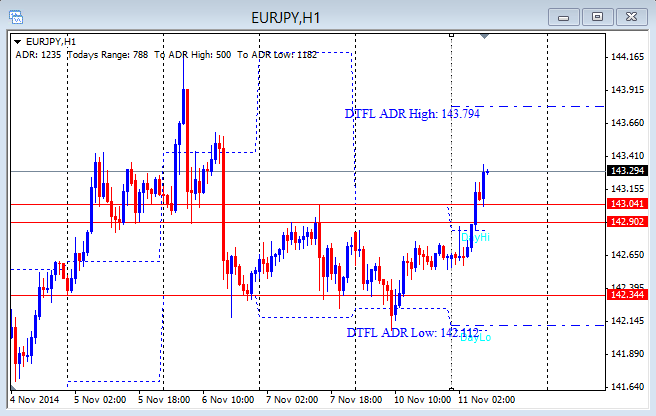 Forex News Today
Most of the data releases today are for the UK in the form of Unemployment and Average Earnings along with the Inflation Report later in the day. The only way they will push on the early releases is if they miss big. There is a decent chance for large misses because other UK data has disappointed as well showing weakness in their recovery. As long as they are close they will wait for what is in the Inflation Report. My thoughts are Carney will have to admit the UK economy is slowing but still hanging in there for now but any mention of deflation or inflation going lower the GBP should weaken.
The US has a few Fed member speeches but otherwise a slow data day for them. With most Fed members being quiet after the Bullard QE bomb a couple weeks ago they probably wont be saying much to stir the markets
Happy Trading
Chad
MY APOLOGIES FOR THE BROKEN VIDEO OF INSIDE JOB IN THE COMMENTARY. I DIDNT THINK I WAS COPY WRITE INFRINGING WITH AN ITALIAN VERSION ALREADY ON YOUTUBE. HOWEVER YOU CAN STILL WATCH IT AT THIS LINK. STILL A MUST SEE!
MEMBERSHIP SPECIAL – CHECK OUT THE NOVEMBER DISCOUNT ON OUR FOREX COURSE AND LIFETIME MEMBERSHIP…SEE IT HERE
If you have questions about joining Day Trading Forex Live and becoming an active member please feel free to contact Robin Haywood. He is a current member and has volunteered to answer any questions to give you an idea of what the service involves and support we provide. You can email him at robindtfl@gmail.com to set up a time for a conversation over the phone if you like or call his US phone line at 702-560-8552 or Skype at RobinHaywood
Do You Enjoy The Daily Forex Commentary? Please Click The Like Buttons, Tweet It, and Google + It Below