USD/JPY & GBP/JPY Breakout Continuation Resistance 28/04/2011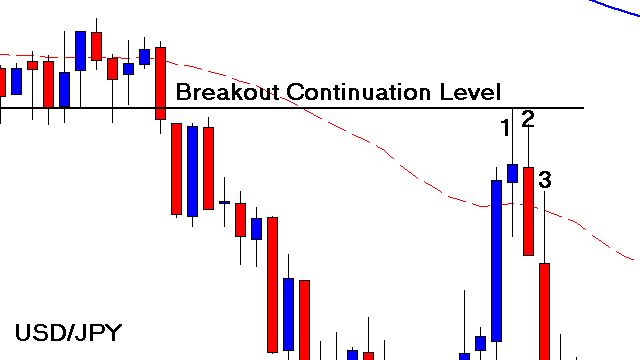 Sorry I'm posting this one a little late. I got a little backed up on the recent trades section for last week, but here is Friday's trades and I will do today's trades right after this. Anyway to start off the day we had a -35 pip loser on the GBP/JPY. It was a quality setup however it never gave more than 10 pips of profit before turning on us. I should have taken a break even exit, but it is what it is and we moved on. After that trade we stayed patient and waited for another setup and we got one.
I'm covering the USD/JPY trade because it is a more "traditional" day trading confirmation entry and therefore a better chart it illustrate this forex trading strategy. Anyway….looking at the chart above you can see the previous support that was broken, and when the market moved back into this previous support it became resistance. We call these levels breakout continuation levels. For more information on that please check out the article entitled Forex Breakout Continuation Setup – Day Trading Strategy.
Back to the chart above…..as it came into this level we then waited for a confirmation entry short. The first candle in this 3 candle setup is what we call the reversal candle. All the reversal candle must do in the case of a short position is touch the resistance, and then close below it and this is exactly what candle #1 did. Candle #2 gave a solid confirmation candle down. A confirmation candle must close below the body of the reversal candle to meet the criteria. Notice candle #2 very clearly does that. The first two candles in this setup give you your direction and then the third candle is where the entry is taken. In the case of a short setup you would sell when the 3rd candle pulls back into the body of the reversal candle (candle #1), and this is exactly what we did.
We took +15 pips off the first half of this trade and +35 pips off the last half. The first trade was just a half position, but on this trade setup we went in with a full position of 2% risk. Therefore overall we ended up netting +15 pips overall on the day. Not to bad considering we had a loss to cover from earlier in the session. Overall for the month we did ok, and ended up +5% for the month overall. I say it was only ok because I went through a 5% draw down during the last week or so of trading. That being said any month that ends in the black is a good month in my book. This business isn't a get rich quick scheme, it's a long term business and must be thought of that way if you are to become a professional forex trader. I hope you all had a great month, on to May!