Volume Based Forex Trading 25th – 27th July 2011 EUR/USD & GBP/USD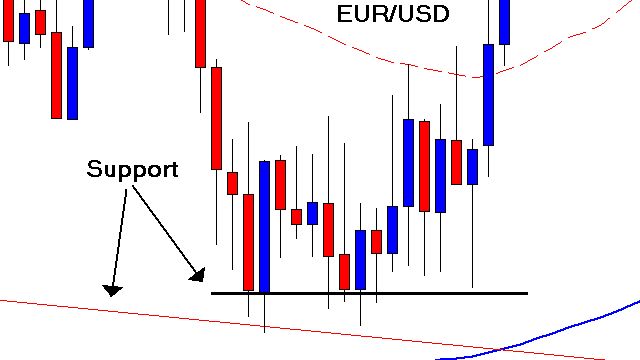 The forex trading system used on a daily basis in the trading room is volume based. However with all day trading setups there are always contributing factors that helped signify a change in direction, and thus the entry signal. This day trade setup from Tuesday was no different. To begin with, each and every strategy that I use relies on the market being at some form of support or resistance plain and simple. Support and resistance has been around since the beginning of the markets for a reason….it works when used correctly.
As you can see here there were quite a few reasons to believe this area would be support and thus a potential turning point. First it was already proven support as shown by the black line. Additionally there was a descending trend line coming in at this point shown by the red line, and last but not least the 200 EMA was right there. This was BTW on a 5M chart. Once these factors came together we then had a volume based entry which was the actual trigger. Being on a smaller time frame, once you identify a solid turning point and then have volume confirmation based on the forex system….usually the price will continue off in the direction of the trade fairly quickly.
I still look for the confirmation entry the same as always as well. That being said confirmation entries during the NY session have been few and far between. Normally there is at least one during out 3 hour London session, and then another during the NY session but the new day trading entry tends to produce more yet, with tighter stops, and a higher degree of accuracy. I was a bit disappointed with this trade. We had a +70 pip take profit on the last half and it went +60 pips in our favor before coming back and closing us at break even. We still managed to close the first half of this day trade setup for +15 pips, but unfortunately the last half was a set and forget and we were a bit unlucky. That's all part of trading and no one ever went broke taking some profit so I'm not gonna complain to much…on to the next one!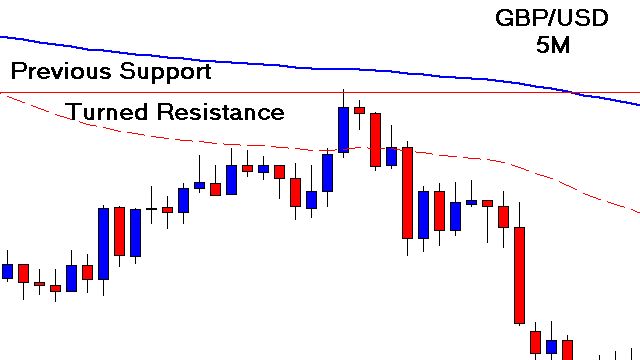 Here we had another volume based entry. This day trading setup was from today's NY session. Both of these trades took a bit of patience but they finally came together. Today's day trade was again at a nice turning point. As you can see in the chart it was previous support that was broken, and now acting as resistance. This is what I call a breakout continuation level and this pattern repeats itself every single day over and over in the forex market.
As the GBP/USD came into this level we were looking for a potential short setup. On the 15M it actually gave a confirmation entry short. Additionally the trend prior to our session had been down and thus when this pulled back to such a great level it was really a no brainer. Having said that we still however waited for our forex trading strategies criteria to be meet. Once we had the proper volume criteria we pulled the trigger. This day trade took of nicely and we were able to turn it into a nice runner. We played things safe by taking half the trade off for +20 pips and then moved the stop loss to break even on the last half. We set a +50 pip take profit on the last half that was hit a few hours later. Overall this was a +35 pip trade.
I would like to note to be fair that this has been a very tough month. During this month we changed systems to better suit the current market conditions. The confirmation entry forex trading strategy has served us very well and turned a profit 5 out of the 6 months this year that we used it almost 100% of the time. That being said, why would I change then?!?! Well plain and simple the new day trading strategy gets better entries, gives tighter stops, better risk/reward, and a much higher winning/loss %. In addition to that it produces many more trades per day. As I mentioned this has been a tough month but we are in profit and never had more than a 2% draw down at any point. This month thus far has shown why all successful forex traders must develop patience if they are going to succeed in any marketplace.
We could have very easily got flustered in the forex room and started taking calls with higher leverage to make back a losing trade, but as you all well know that often leads to further loses. We kept the leverage low, stuck to the trading strategy, and as always pulled ourselves out and our now in profit. Hopefully we will have a great close to the month and end up around +5% or a bit higher. I will keep you posted. See you all tomorrow with the next update!