GoPro Stop Run Reversal – Day Trading Morning Emotion – Oct 14th 2014
Today we had yet another great example of market open stop runs. Once a stock turns red after a big run it can be tempting to chase the market down. Trading is all about specific entries. In forex, equities, commodities, ect…timing means everything. One of the strongest aspects of tracking market manipulation is the risk/reward associated with the entries. That type of risk/reward can only be achieved with specific timing of entries. The first step comes from having a valid manipulation point. In the case of GoPro (GPRO) the afternoon highs created a solid high which was likely a stop point for most traders already short.
Because the stock market has an open and close, the market open is frequently very emotional. This is something very different as compared to the forex market. This market open emotion is something that amplifies stop run reversals and the likelihood of a solid short term market reversal. The chart below illustrates all of the above.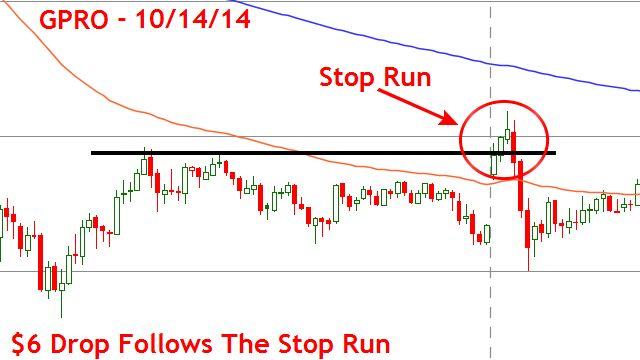 Want To Learn More About Trading Market Manipulation In Any Market…Check Out Or Bank Trading Course Here
-Sterling
DID YOU ENJOY THIS FOREX TRAINING ARTICLE? IF SO PLEASE +1, LIKE, OR TWEET IT OUT!