London Session EUR/USD short nets 90+ pips
London Session EUR/USD Short
This London session EUR/USD short trade set up at the level I talked about in todays commentary. It did show the manipulation a little earlier than I expected before London opened but was a valid trade since Frankfurt was open and they will do the manipulation during that time. Also known as the Frankie fake out. I do consider the entry more aggressive since London has not opened but valid none the less. I didnt take it on the initial pullback because it was the London open candle and it shot up to my price range in the first few minutes of the candle. I waited for a slower move a couple candles later just in case the momentum would carry it higher. Many members got in on the first pullback which is fine but in order to be confident that London wouldnt carry it higher I waited and got short at 1.2834.
After I took the entry I was looking to see that the initial manipulation move was confirmed with another set of candle patterns. Sure enough they showed the second set of legs and it was off to the races a couple hours later. My initial take profit was 50 pips but when I was moving my stop to break even I pushed it out a bit further to 65 pips (my default 50 from current price). Since I knew I wasnt going to be able to watch it and see how it approached the levels below a three to one take profit is great. I surely hope the members who took the entry were able to maximize their profits on this trade. I do recall some saying that this was one of the most beautiful set ups we have seen lately. It dont get much better than todays entry catching the high of the day and riding it for the better part of the ADR. Good job to all that caught the entry. 🙂
Yes it did eventually hit the level I thought it had potential to test at 1.2734 but getting greedy will more often bite you in the butt rather than pay off.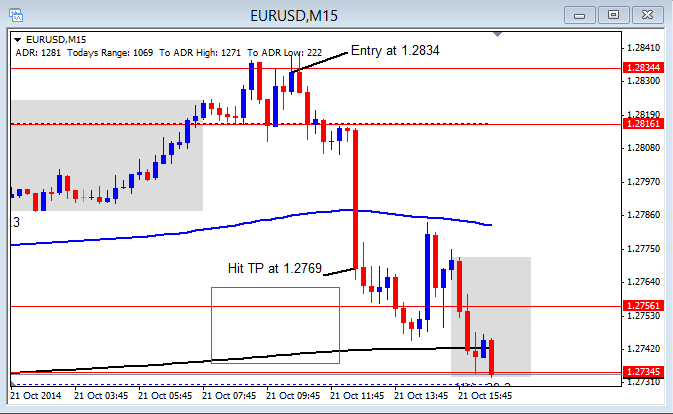 Again kudos to the members who caught this trade and or the GBP/USD that set up a little earlier. I would be happy to see all that caught this great trade post what they gained in the comments below. As always we are happy to hear members are seeing the set ups and getting great trades like this.
Happy Trading
Chad
MEMBERSHIP SPECIAL – CURRENTLY THE LOWEST PRICE IN THE LAST TWO YEARS – END OCTOBER 31ST…SEE IT HERE
If you have questions about joining Day Trading Forex Live and becoming an active member please feel free to contact Robin Haywood. He is a current member and has volunteered to answer any questions to give you an idea of what the service involves and support we provide. You can email him at robindtfl@gmail.com to set up a time for a conversation over the phone if you like or call his US phone line at 702-560-8552 or Skype at RobinHaywood
If you enjoyed this post? Please Click The Like Buttons, Tweet It, and Google + It Below