Something Different – EURAUD March 23, 2014
One of the Forex Pairs I think most traders, including myself, tend to overlook and write off as a mediocre Aussie cross pair. Guilty! The EURAUD, Euro against the Australian Dollar, might be overlooked but should be right up there with the 'other pairs' you monitor on a daily basis. March 23, 2014 just confirms this statement, allowing for a nice Risk:Reward trade where the majority of the majors failed to do so. Even in the DTFL Members only Forum it is not mentioned much, lacking the attention it deserves.
Let Us Have A Look At The EURAUD Trade Setup & How It Played Out.
Observations Before Considering The Trade:
A Nice Clear Weekly Push To The Downside (135 pips)
A Weekly Level Of Interest (1.5216 – 1.5223 area)
Expecting Another Weekly Push To The Downside
Previous Day's Low As Confluence
Open Space To The Downside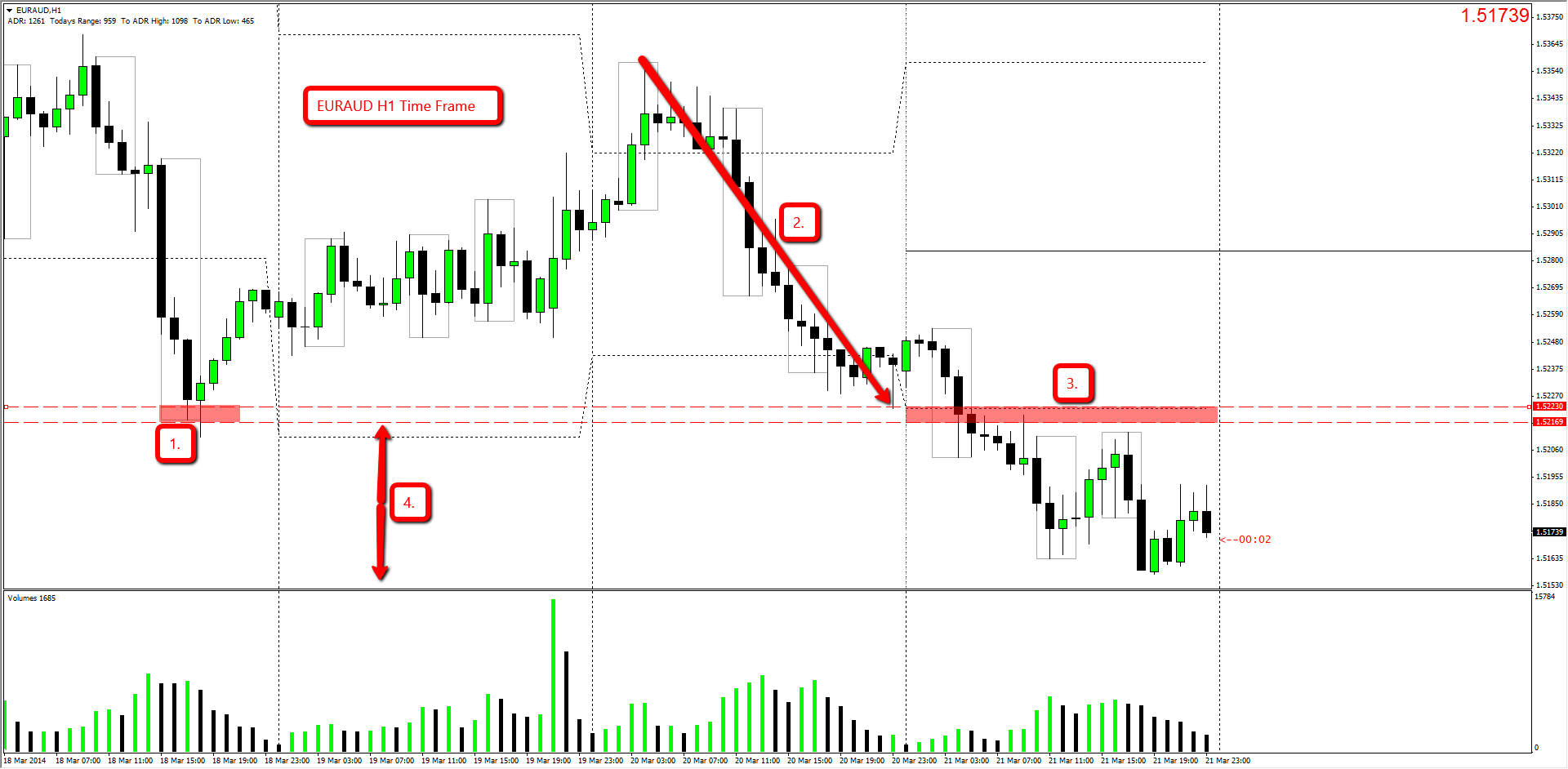 Click To Enlarge Image
Notes On H1 Time Frame:
Previously Rejected Area
Weekly Push Down
Level Of Interest/Significance
Open Space To The Downside
It is important to note the Pin Bar showing some rejection of the highlighted area marked (3.). There are four reasons for this in my opinion – feel free to comment if you disagree 🙂
Traders would have traded the breakout of that level to the downside.
After the H1 candle closed traders would be buying off support.
Breakout traders would most likely be stopped out on the candle pullback back to the support.
Traders that went long off resistance get stopped out on the next few candles.
Now what does these 4 reasons all have in common? They all provide Liquidity to Smart Money! Assuming you did not fall into their trap you now have the perfect opportunity to look for a backside trade off of the level. I will explain this in Part 2 of this article. We will then go into more detail and have a look at the M15 Time Frame.
Happy Trading!
If You Enjoy The New FX+ Blog Then Please Click The Like Button, Tweet It, or Google + !!