EUR/JPY Confirmation Entry Trend Continuation Setup – LIVE Trade Analysis
This is a basic trend setup, where the price makes a valid 1st push-up, and I look to trade for the 2nd push-up. The level that stood out to me here is the daily highs from the 23rd of March. However, the price did not have a clean break of that level.
To fix this, you must know that manipulation points are price zones. However, the DTFL bank trading strategy requires an exact level (to the pip). In the above scenario, I decide to go for the most significant level, but I do not have a clean break, so I would use the closest secondary option. 
The level selected here is the 133.78 level, just shy of the daily highs of the 23rd.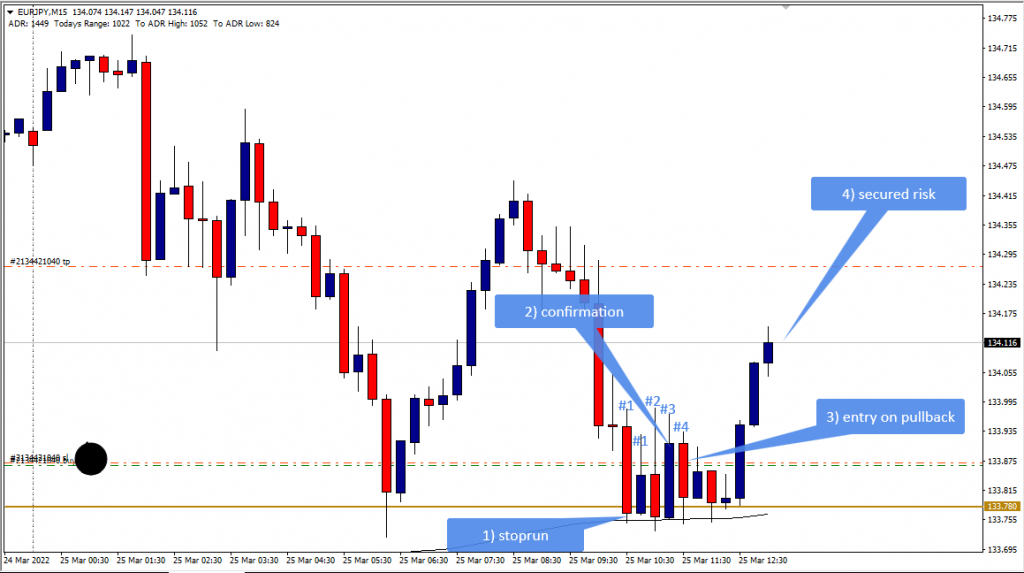 Price bounced off this level during the Asian session, further strengthening my conviction in an upside bounce.
We then have price come back to create a stop run during the London session with confirmation at 18 pips from the low. In this scenario, we would opt for an entry on a pullback to 15 pips from the low for a 20 pip stop loss. Price gave us the required pullback on the 3rd candle in the count. 
The price continued ranging around the entry point before breaking out and continuing in our direction. I moved my stop loss to break even at 60% to full take profit, the price quickly hit full take profit in very little time.
Interested in learning more? Check out our Advanced Bank Trading Course & Live Training Room by Clicking Here.
-Kevin