EURUSD London Session March 10, 2014 – 1.38915
Earlier today Chad mention the following in his Daily Commentary of March 10, 2014:
If it can get a decent move to the upside during the Asian session to try and test the highs I will consider a long at the 1.3891 daily level. If it cant then the best place for the long is 1.3851. In order to short from the highs I will want to see the topping formation and retest with a stop run get an entry as close to the highs as possible.
It is safe to say that the first part of Chad's statement is out, with price never running into Friday's highs during the Asian session. Currently we have seen the third test of the 1.38915 level mentioned in the commentary with a double top clearly forming. Looking back at Friday we can clearly see this was a high supply level with the strong 43 pip bearish candle that formed at 8:45 EST. Are they simply absorbing all the supply before we see a run up or will this be a classic range bound Monday?
The possibility for the Long at 1.3851 is still an available option if we do move into that area at or during the New York Market Open. If we will get that deep of a move to the downside seems to be unlikely with the lack of market volatility. Having moved around 22 pips from the resistance level (1.38915) that level has become more relevant regarding orders and stops. Although we have seen an "M" formation it does not look that pretty to say the least. I asked Chad what he thought of the formation and he replied with the following: "The first leg is better than the second but I don't like the tight Asian range and that it didn't get them at the lows first."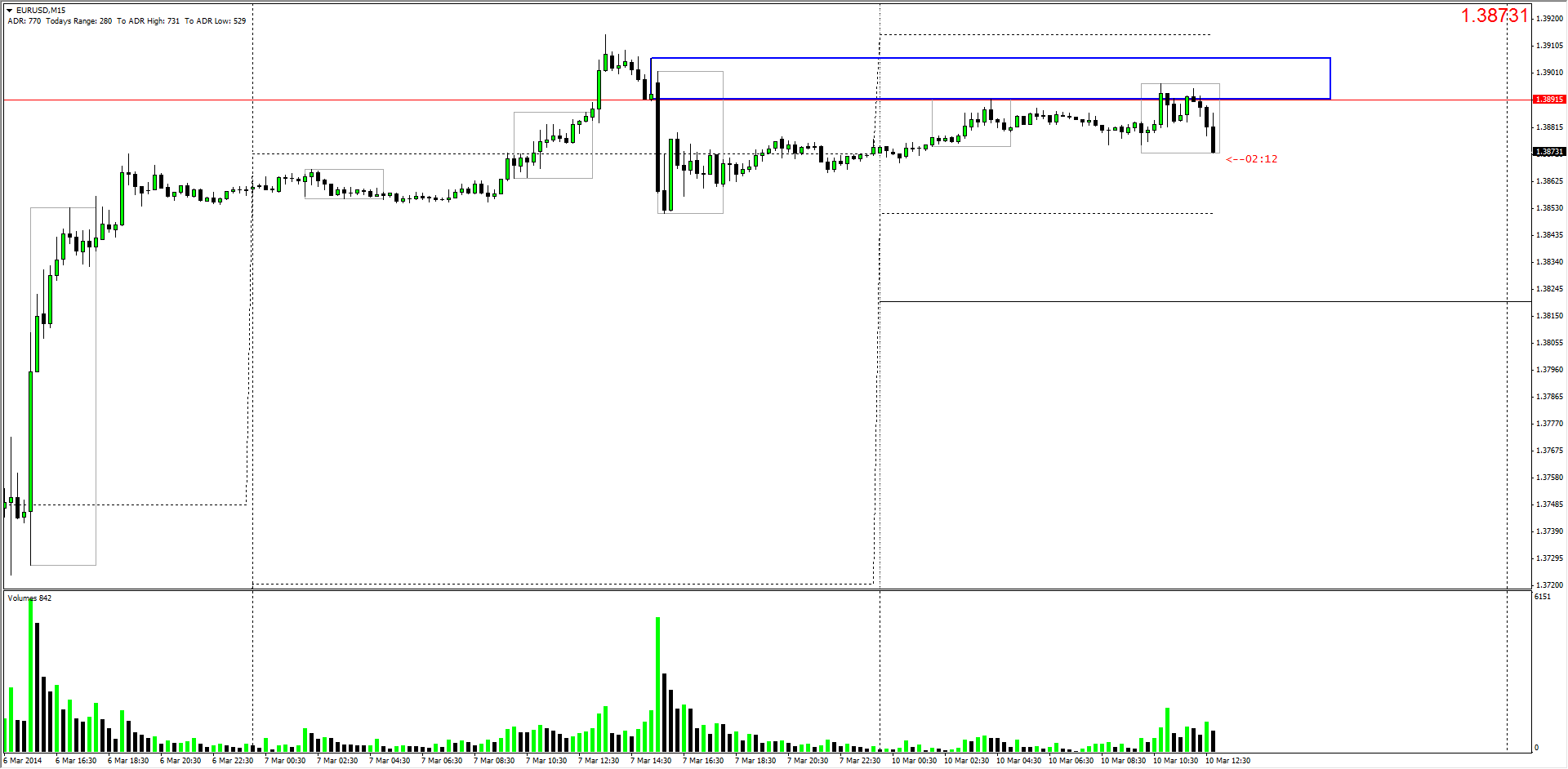 Click To Enlarge Image
 As I am busy typing this article we are coming ever closer to breaking the Asian lows which might change things coming the NY market, making the long look that much more attractive.
Happy Trading,
Allen
If You Enjoy The New FX+ Blog Then Please Click The Like Button, Tweet It, or Google + !!