How To Benefit From Long Term Market Manipulation
One of the most common questions Chad and I get on a weekly basis is in regards to markets other than forex as well as longer time frame trading. Anyone that follows Day Trading Forex Live (DTFL) knows our focus is day trading the forex market. With that being said many traders reach out to us in regards to other markets as well as long time frames. To put it simply, market manipulation can be traded in all market and all time frames.
Above is a great example of not only a different market but also a much long time frame than we teach at DTFL. The bottom line is once someone understands market manipulation as a principal they can begin to adjust the strategy to fit their personality or schedule if they choose to adapt it to longer time frame setups. The chart above is a daily chart of gold going back to the end of 2013. Near the end of last year gold produced a very large stop run of the previous lows. We walked through this setup in our live trading room and as I explained then this was the catalyst that pushed me to begin buying physical again as a potential bottom had occurred. How I buy gold and silver is another article I may get into down the road.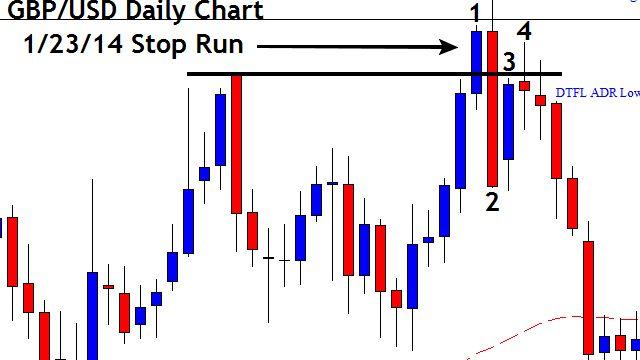 The next chart is a daily example of how we can use longer time frame market manipulation to make short term trading decisions. For those without a desire to trade longer time frame charts, the information can still be useful. Once longer term manipulation is spotted  it can give us a much stronger short term bias. Therefore if after a longer term stop run we spot a standard manipulation setup on the 15M chart the following day we can have much stronger coincidence in that trade. Additionally the longer setup can give us evidence of a more macro move being possible, and thus gives us insight into the potential for a larger profit target on an otherwise short term entry.
What Does It All Mean?
The simple conclusion is that market manipulation can be seen and traded in any market and on any time frame. I personally prefer the 15M chart in the forex market but that is just  a personal preference not an absolute everyone must stick with. The real key is learning how manipulation works. Once you understand market manipulation and why it occurs you can use that information in your trading forever regardless of the trading strategy, market, or time frame you eventually end up sticking with.
Happy Trading,
Sterling
To Learn More About The Secrets of The Mega Banks Check out What is Included in Our Lifetime Membership Here
If You Enjoy The New FX+ Blog Then Please Click The Like Button, Tweet It, or Google + !!