Live GBP/USD Backside Short – Trend Trading Strategy
The 1st of March creates a valid 1st pushdown, and at the end of the day, the daily-low forms a level of support (1.3302) which becomes valid for a trade once the price bounces at least 30% of the ADR.
Since we have a bias to the downside, I was only looking to trade the backside of 1.3302 after a valid clean break. This scenario took place as expected; price creates the clean break of the 1.3302 level with two 15 min candles open and closing below the level. At this point, all that was left was to wait for a valid backside continuation setup.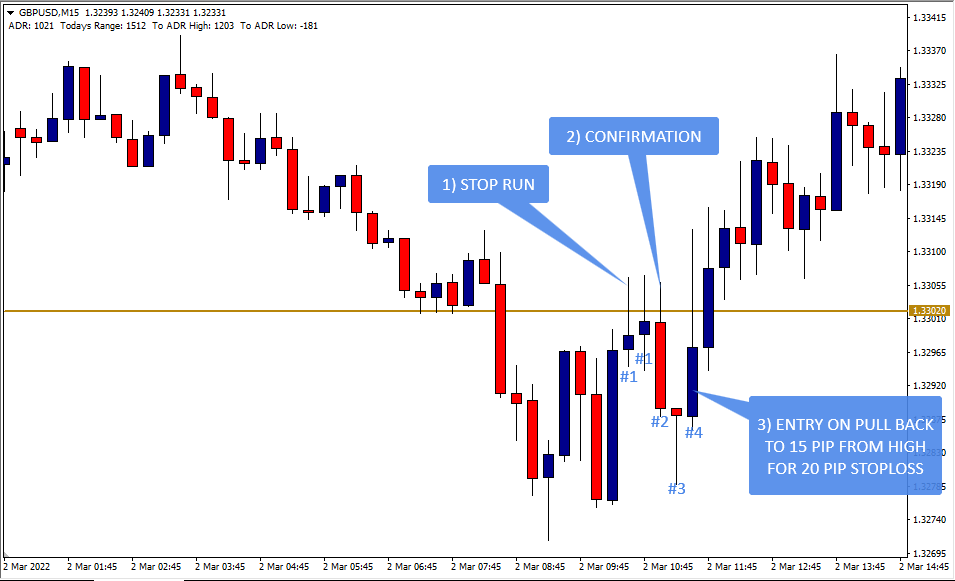 Price came back into the level, creating a valid stop run on the #1 candle and resetting the count on the next #1 candle. The trade then confirms with the 2nd candle on the count, closing over 20 pips from the high. Since we had an average daily range (ADR) of 100 pips, I set my entry at 15 pips from the high of the formation for a 20 pip stop loss. Price now must pull back to that point to trigger my entry, which price did on the 4th candle in the count.
There was not much trade management on this setup as the same candle that triggered the entry moved straight to hit my stop loss on this trade.
Now and then, you get a trade like this, and it is easy to begin to second guess your entire methodology. I would advise avoiding that thought process, as you can always review your setup and see that you stuck to your playbook. If everything is correct according to your trading plan, then all you have to do is focus on your next trade, as losses are part of the process of profitable trading.