NZD/USD Backside Trade: Confirmation Entry for Feb 9th, 2022
Live NZD/USD Backside Trade Analysis
Price made two consecutive days of sideways price action here on this pair. Consequently creating an open bias, a condition where we trade levels to both sides of the price.
In this case, the level to consider is the upper level 0.6652, which price made a clean breakthrough during the Asian session. Leaving us with a potential backside play during the London session.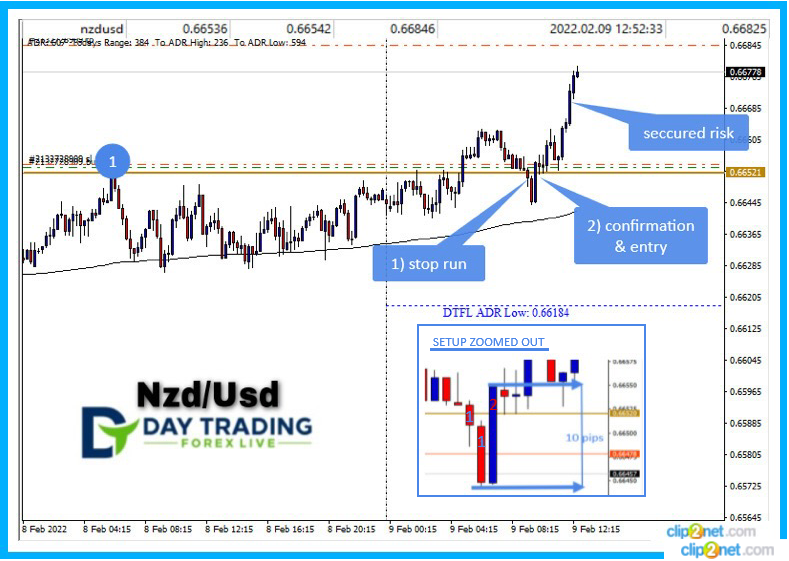 Here we had the classic DTFL setup, and as any DTFL member would know, this setup is the easiest to spot, especially when you have the stop run and confirmation both form in the first two or three candles in the candle count.
In this case, as displayed above, price made a valid stop run on the 1st candle of the count. However, it reset the count on the 2nd candle, making it the new number one candle followed by the confirmation candle (#2). This candle closed ten pips from the low of the entire formation, allowing us to trigger our entry immediately, as with an ADR (average daily range) of 60 pips, a 15 pips stop is perfect for the pair according to our rules.
After a little ranging motion, price continued in profit, and we moved the stop loss to scratch at 60% of the take profit. Price then went on to hit our initial target, making it a full take profit trade.