Silver Rallies After Stop Hunt Below Previous Lows – Day Trade Long
I'm totally shocked that a stop run of the previous major lows preceded the bounce in Silver (Sarcasm INCLUDED). Ok, on a serious note good job to all those who took the silver setup long. After the picture below was taken the market rallied .70 cents. Does this mean that the decline in the silver market is over? I have no idea. What I do know, just like in the blog post on the S&P 500 daily chart short setup and the S&P stop run short today, this is only a indication of short term direction change. This also gives us an extremely high R/R ratio trade potential. With the R/R ratio these trades produce even a 50/50 hit rate will be extremely profitable.
How would I look to trade this? I would wait for a strong base (support level) to be established over the next 12-48 hours. After a clear low has been established, if the market then creates another stop run of that level it will likely result in another short term push up and thus a possible day trade long opportunity. Happy Trading!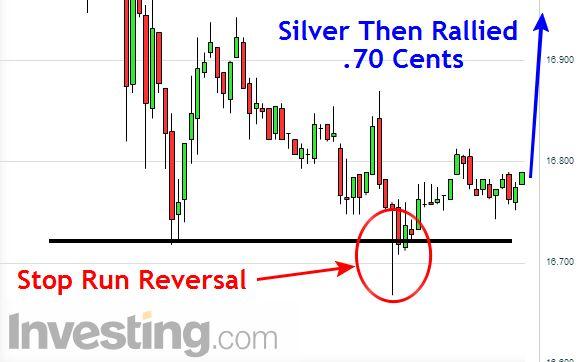 -Sterling