New York Market March 4th 2014 Update – 54pip Runner
As posted earlier today in the FX+ Blog, New York Market March 4th 2014 – What Can You Expect?, we patiently waited for the EURUSD to run into yesterday's highs, but it failed to do so before running down roughly 54 pips to the downside without most of us that waited for the more conservative entry. 45 Minutes into the NY market we made a new daily high breaking the previous high set during London. The level was taken out by 8 pips before closing and forming a nice 'set of legs' with the candle that followed. The only thing that was missing from this setup was the pullback to get us within a better stop loss position of 15 pips or less.
Feeling like your emotions is getting the best of you? Read our Trading Emotions – Best Friend Or Worst Enemy article!
We can somewhat see this as a triple top as stated in Forex terms before the drop started. When the second test of the 1.3770 got rejected supply got depleted before the orders got taken out on the third break. We can also see it as a place where some traders would have wanted to go long, which most likely got stopped out on the way down, further fueling the overall downside move. It is worth noting that 1.3776 level was where we saw resistance during the New York session yesterday as well, making the level somewhat more significant. Like mentioned before it would have been a classic setup if this all occurred around the confluence area of 1.3789. But hey, if we could control the market we would all be millionaires right now 🙂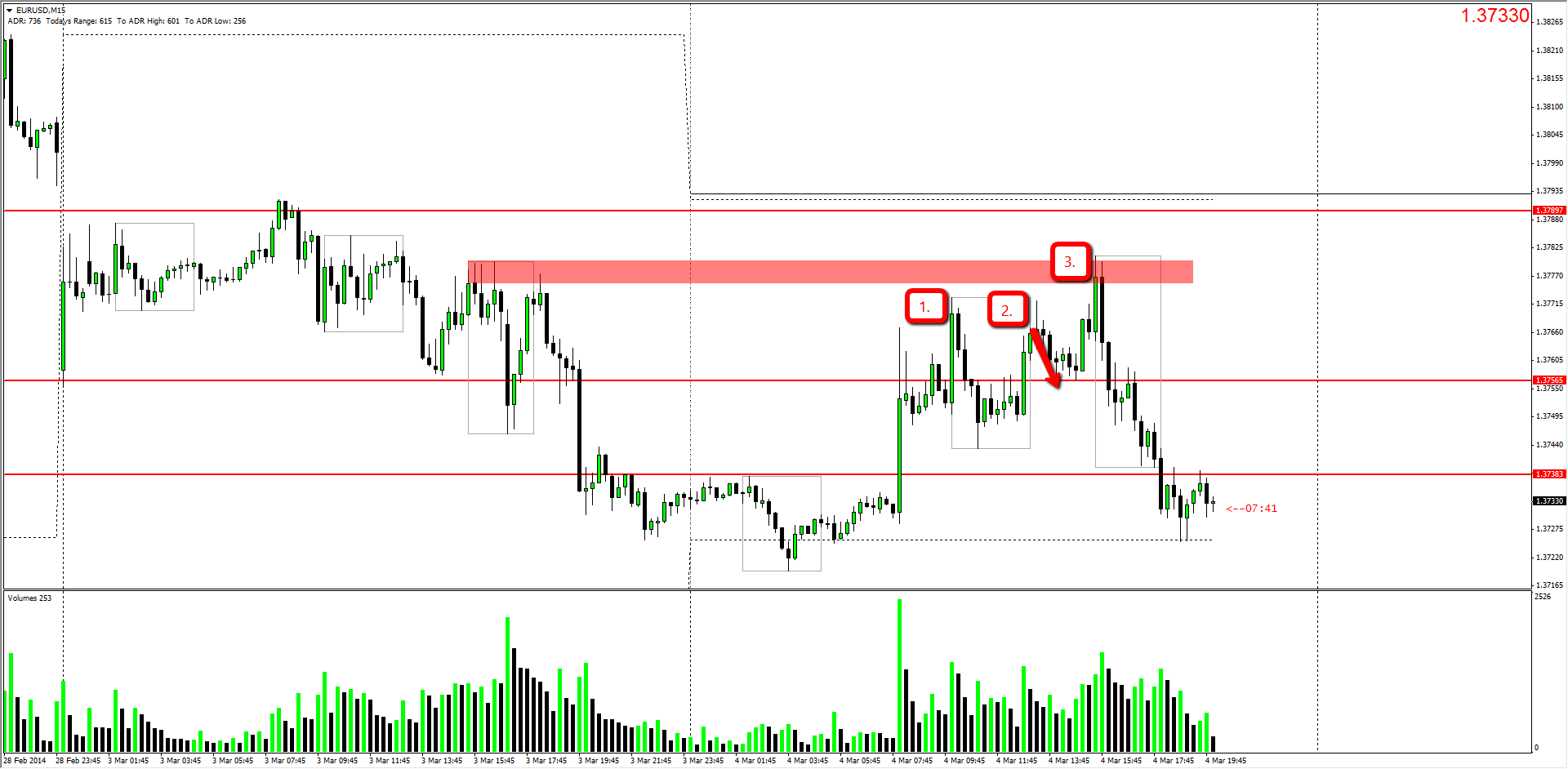 Click To Enlarge Image
Currently price has rejected yesterday's lows twice and is siting close to the overall daily low made during the Asian session. Now it simply comes down to a waiting game, allowing Smart Money to show us their next hand in market direction. Be sure to read Chad's Daily Commentary tomorrow morning to get an better idea of what to expect as he has proved to be spot on most of the time. You can read more on this by going to Daily Commentary Banked 55Pips – Chad Called It Again.
Until next time, Happy Trading
Allen
If You Enjoy The New FX+ Blog Then Please Click The Like Button, Tweet It, or Google + !!