***DTFL Pro is now available***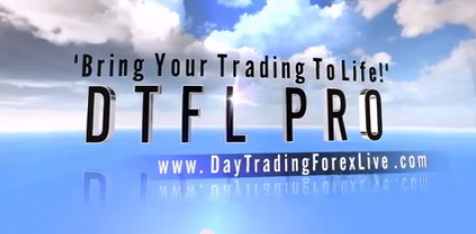 Background – this may well assist you in your decision making process.
To help in your evaluation of DTFL Pro I thought it important to give you a background of my history with DTFL, the reasons why I decided to embark on the goal of semi-automation and how DTFL Pro may help improve your effectiveness in applying the Bank Trading Strategy taught by Chad and Sterling. Be sure to watch the seven month back test video at the bottom of this page.
I joined DTFL as a member in 2012. I was then, and am still now, working part-time 3 days a week (Mon, Tue & Wed). My personal involvement with forex trading was limited at that time, but I was an active investor in a variety of forex-based managed funds. Upon joining, I was a diligent student watching and re-watching the Course Videos, listening to every DMR and attending the live trainings – mainly just on Thursdays. I also asked lots of questions.
I quickly picked up the basics of the Bank Strategy and by historical tracking of the High Probability Manipulation Levels (published in advance each day by both Chad & Sterling) I became convinced their Bank Trading Strategy provided a profitable 'edge'. I therefore started to Trade 'live' on my days off, that's Thursdays and Fridays. I had mixed results and suffered from the same challenges often suffered by inexperienced traders. In particular, I found myself over-trading because I was 'forcing' trades during my shortened 2-day trading window.
I therefore re-evaluated and started to use pending orders at the pre-determined levels. I placed these orders prior to going to work (just before the London session) and then returned home (during the latter part of the US session) to see the results. This proved to be very hit or miss and was not fully replicating some of the key rules of the Bank Trading Strategy.
At this stage I was getting quite frustrated. I had continued to monitor things and I could clearly see the strategy continue to work, but without being there to monitor the charts and press the buttons, I could not take advantage of what I could clearly see. This is what prompted me to start investigating the process of semi-automation.
My goal at the outset was to create robust software that would allow me to watch the DMR, set my levels in advance and then go off to work confident that the software would apply predetermined rules once these price levels were hit. Also, if this resulted in a trade, have the software fully manage this trade to its conclusion. Importantly, I wanted the flexibility to be able to fully adjust any of the predetermined rules/settings so that I could continually improve and tailor things for my own personal trading style and preferences. This meant an effective way to back-test would be essential.
I started the process of development with one company only for the whole project to collapse after many months of hard work. In hindsight, this was a blessing; as it allowed me to refocus, take what I had already learned and reproduce a much improved and comprehensive list of specifications in the new tender document I produced. Also, another benefit to this delay was the release of information about the upgrade of MT4 to Build 600+. This offered a whole host of potential new features that had not previously been available within MT4.
So work began and thanks to the skills of talented developers, input from Chad, Sterling and other fellow DTFL members (and a bit of work from me), we have today a final product that exceeds my original expectations. It has been extensively tested and is robust. It allows up to 3 personal Trading Windows to be set and the selection of up to 10 Levels, either immediately or at a time in the future. Once these Levels are hit the Bank Trading Strategy rules are applied in relation to Deactivation, Stop Runs, Confirming Candles and Pull Backs. Four different entry methods are offered – some of which can be used in combination and all of which are consistent with the strategy rules. Stop Loss is automatically set at a 'Fixed' pip distance or is 'Variable' based upon the recent high or low and can be moved based on predetermined criteria. Trade Management options are extensive and can be applied based on time or profit level reached. News and other events (such as session changes) can be catered for by use of rules at Management Times. Fixed Take Profit can be applied or used with a combination of Partial Close and/or Trailing Stops. The DTFL ADR is an added option that cleverly provides a Take Profit Range that takes account of recent market volatility. The Chart and all other inputs/settings can be set up, altered, saved and stored to suit your personal trading style and preferences.
In relation to back-testing, it is now possible to run extensive back-tests without the need to stop and enter Levels for each new day. These are automatically generated by DTFL Pro within the Strategy Tester feature of MT4. Additional reporting and live screenshots of recent events is provided and all Levels you use are stored for recovery and use at a later date. DTFL Pro also keeps you updated on key events whilst on the move via text messaging, email and mobile (via the MetaQuotes App).
I certainly believe I have achieved my goal with DTFL Pro as I can now do extensive analysis and research through back-testing, set things up exactly as I want, enter Levels I've picked myself and then confidently go off to work (or out) knowing DTFL Pro will carry out my instructions precisely – all with no danger of human emotions getting in the way. I know DTFL Pro will definitely do its job, I've just got to pick the right price levels and settings, then maximise my returns from effective Trade Management.
So the question you're probably asking is DTFL Pro for me? If you are a full time trader, want to personally be at the screen to make your trading decisions and are confident in controlling your emotions – then probably not – although the back-testing feature may help you refine your Trade Plan. Also, those who do not fully understand, or may yet to be fully convinced in the financial edge of the strategy, would probably be best building their confidence before taking the plunge. Other than that the only reason I can see for not subscribing to DTFL Pro is the financial outlay and I have tried my best to keep this realistically within reach for all – unfortunately, I too have ongoing costs that must be factored into the overall offering. Personally I believe DTFL Pro to be an excellent investment and I hope to be able to assist you with your trading success.
Many thanks for your interest.
Seven Month Back Test
The examples shown are from a 7th Month Back-Test that was run throughout the Day Light Saving Period of 2014 (7 months). The settings used for the Back-Test are very conservative with the Stop Loss being moved to Break Even very quickly. The PPLevels used are from Sterling's Daily Market Review.
DTFL Pro – Purchase/Leasing Information
Purchase of DTFL Pro Software – $149
(Includes x2 Licences for 1 month)
Ongoing Monthly Licensing Charge – $59
(x2 Licences 1 MT4 Demo & 1 MT4 Live Account)
Your initial purchase for $149 includes your first months licencing charge for x2 licences.
You will automatically be subscribing to an ongoing recurring monthly licensing charge of $59 for x2 licences.
IMPORTANT: DTFL Pro software will not work on an MT4 Account without an active licence.
When completing the subscription you will need to provide the following information:
1. Your MT4 Live Account Number (so I can set up your Live Licence)
2. Your MT4 Demo Account Number (so I can set up your Demo Licence)
3. Your Current Active Email Address (so I can send the links to download DTFL Pro and other files)
4. Your Current Username for the DTFL Forum (so I can grant you permissions in the DTFL Pro Forum)