Part 2 – Habits Of Successful Forex Traders: Developing Patience
I've always said the trading strategy is not the most important part of what makes a successful forex trader. That seems strange coming from someone who teaches "strategy", but in my experience this has been the truth and I believe any successful trader would agree with that statement. Does that mean one could simply day trade forex blindly without a clearly defined forex trading strategy and be profitable? No. What I'm trying to imply is that all forex traders have what I term as common denominators or common traits no matter what trading system they use. In the first article we covered risk/reward and the track record within that article and well as this article clearly illustrates its importance to successful trading. What might not have been quite as obvious within that track track record is the patience shown when we take a closer look. This is what we will discuss today…
Lets break down some of the numbers in the track record below from last week.  Last week clearly illustrated the importance of risk/reward in your trading but patience is clearly shown through this statement as well. Lets see how…
Total Trades – 43 (including break even trades)
Total Days Traded – 32 
Average Trades Per Day – 1.3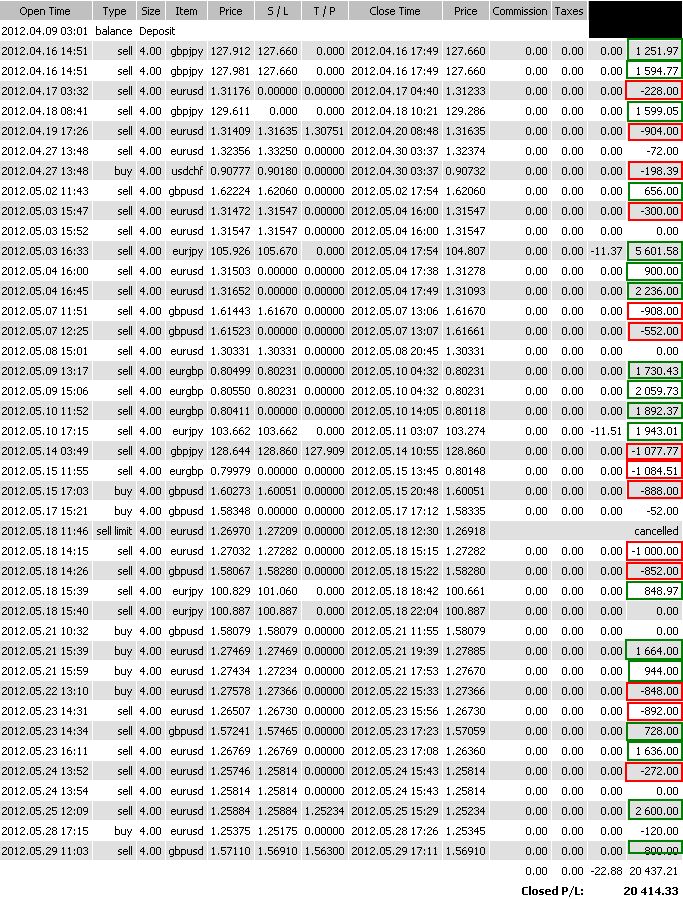 In the case of trading…less is always more! Did you notice the average number of trades per day….on 1.3 on average. While most would consider this low, no one would argue with the consistency and profit. So what can you do to become a more patient trader?
Every trading week only allow yourself 2 or 3 trades that week. Once you complete those trades you are no longer allowed to trade for the week! This will do two things. First it will keep you from that trap of over trading. Finally it will force you to be selective in the trades that you take….and selectivity is the key to patience!
Understand Your Exact Criteria Required To Take A Trade
Lets face it, the forex market is without a doubt the most advertised market. There is always the new EA's, indicator, price patterns, candle patterns, software, ect. With so many ways to trade its no wonder we get emails every week from frustrated traders tired of the same cycle of hope and then disappointment. This also creates a lack of confidence which stems from not having a clearly defined trading strategy. The trouble is traders are reading the price with "main stream" trading systems that rely on price to signal entries. Wouldn't it make more sense to follow how the banks have to trade? The market is really quite a simple….consider this….
1.) 10 banks control over 50% of the volume and thus the direction of the market.
2.) Smart money has no choice but to create buyers if they would like to sell, and sellers if they would like to buy. As they do this they leave a "foot print" we can follow.
Once we understand how smart money manipulates the market to create the orders they need, we can then track this manipulation. Using an exact forex trading strategy forces us to stay patient and wait for the best setups possible. The results of remaining patient and trading the smart money forex trading strategy yield results like those seen above.
Putting It Together
Do two things for me sometime in the next couple of days. First of all read part one of this article series….the link can be found below. Second break down your last 50-100 trades. If your not profitable I can guarantee one of two things, and more than likely both. One…your risk reward is 1/1 or worse overall, and second you place more than 1 or 2 trades per day. If this proves itself to be true then CHANGE IT because your success in the forex market depends on it! How can you change it?
Simply put you can learn to trade forex by banking activity. The banks control the forex market, therefore if we understand how the banks move the market we can take the same trades as the banks. Additionally this allows us as retail traders to be selective and thus patient because we have exact trade setups we must wait for before taking a trade. Trading based off of banking manipulation also puts us in high risk/reward day trades as you can see in last weeks article. If you would like to learn more you can join check out our forex course and members forex forum here.
On a personal note. If you struggling, have questions, want to learn more about what we do then why don't you shoot us an email?? Feel free to use the contact form on the site out send it direct to daytradingforexlive@gmail.com
Also, if you like these articles, Chad commentary, or anything else on the site then please "Like It, Tweet It, or +1 it". Everyone has a social network and if you enjoy what your reading and think it might benefit others then please do so! Also if you have a comment on the article we would love to here it!
If you didn't read part one you can check it out here – Part 1 – Habits Of Successful Forex Traders: Risk / Reward